Tesla Defense 2
Select air and ground tower and place them on the battlefield. Defend your base and fight off enemy soldiers, tanks and aircraft using your electricity based weapons.Destroy everything that moves! Play Now!
Colorize
Clear the board by crashing similar colored shapes into one another. Match the final color combination with the border to progress to the next level.
Play Now!
Papa's Wingeria HD
Serve up some spicy wings on those tablet screens! It's Papa's Wingeria HD, jam packed with even more food, customers, clothes, and enhancements! Play Now!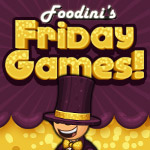 By